A trip to Sydney would not be complete without exploring the gay nightlife. Oxford Street stays in the heart of the Sydney gay bar scene
One of the world's most fabulous destinations, Gay Sydney is has a worldwide reputation for sublime weather, gorgeous men, and wild nightlife fuelled with debauchery.
And that's to say nothing of the gay icons it has produced: Ian Thorpe, Matthew Mitcham, Mardi Gras, Priscilla, and Speedos. A cosmopolitan city with upscale cocktail bars, underground events, avant-garde art galleries, and trendy cafes, travelers have chosen Gay Sydney for decades, and despite the recent introduction of lock-out laws which have decimated inner city nightlife, us gays still continue to flock here.
The western section of Oxford Steet, which runs through the suburb of Darlinghurst, is Sydney's main gay district, but you can find queer folk happily holding hands throughout the city – recently emboldened by the passing of same-sex marriage bill after a vicious (and unnecessary) national debate and referendum.
Oxford Street is closed to traffic once a year in March for the legendary Sydney Gay and Lesbian Mardi Gras, but every day of the year is absolutely queer here with cafes, bars, late night clubs, speedo shops and rainbows galore. In fact, one in 10 gay men living in Sydney can be found within two kilometers of Taylor Square, the epicenter of the Oxford St gay scene. Needless to say, no visit to gay Sydney would be complete without at least one visit here.
Just no matter what you do, be sure to see a drag show – either at brunch, dinner or late in the night,. It is truly something special here and widely accepted, probably stemming back to the colonial days of Australia where it was mostly men around. We can only imagine what they got up to…
In Sydney discrimination on the basis of sexual orientation, gender identity or expression is strictly prohibited, and it is highly unlikely gay travelers will have any issues exploring the wonders of Gay Sydney.
Australia, in general, is considered to be one of the most-gay friendly counties in the world with 79% of Australians agreeing homosexuality should be accepted by society (the 5th-most supportive of countries surveyed) and there is vibrant gay scenes in Melbourne, Brisbane, Adelaide and Perth – but for sun, surf, speedos, and gorgeous guys in Aussiebums none others quite compare. Sydney is quite simply a gay mecca renown the world over, and one we are absolutely living for!
Obviously being gay does not define which attraction most of us will want to see in each city and most queer travelers will simply want to check out the top things to see in Sydney during the day! Sydney is a very safe city, and gay travelers in Sydney do not need to take any extra precautions regarding public displays of affection in this very tolerant and progressive city.
If you are at a loss for things to do in Gay Sydney or can't decide – we recommend just heading to Oxford Street where the shops, cafes, bars and people never fail to entertain!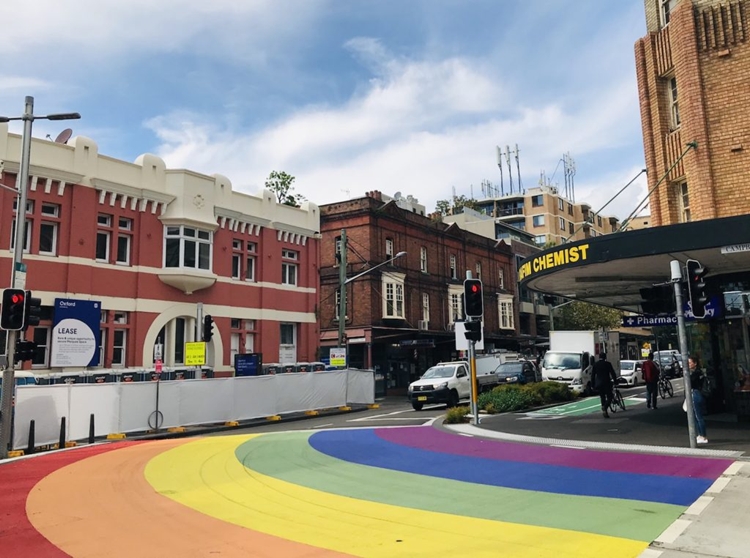 Highlights In Sydney
Sydney Opera House – One of the 20th century's most famous and distinctive buildings, no trip to Sydney would be complete without visiting this world-class multi-venue performing arts center. While the view from outside is incredible, head to the interior bar – or even better watch a concert of the greatest hits of opera here including Bizet, Puccini, Rossini, and Verdi.
Reuben Hills – A boutique micro roastery based in Surry Hills that is insanely gay-popular. Focused on unique, delicious food and exceptional customer service, the food here is best described as inspired by the coffee origin trips, with a real emphasis on the quality of the coffee and paying tribute to all the hard work it takes to get the coffee in the cup. Think Green Chilaquiles as we enjoyed in Puerto Vallarta or Huevos Divorciados better than in Bogota. Honestly, everything on the menu here is incredible, the staff are second to none and the decor is oh-so-edgy – what's not to love!
Taronga Zoo – We normally are not the biggest fan of zoo's, this one overlooking the iconic Sydney harbor and full with all of Australia's weird and wonderful wildlife is a must-do! With over 350 animal species including kangaroos, koalas, and platypuses, you are going to want to spend the whole day here!
Sydney Harbour Hop-on Hop-off Cruise – Sydney is a harbor city, and so the best way to explore its many attractions and take it all in is via boat! Spend the day aboard a hop-on-hop-off cruise that takes you around Darling Harbour, Circular Quay, Watsons Bay, Manly, and Luna Park. Get the best vantage point of the city, all without moving from your seat!
Carriageworks Farmers Markets – On a Saturday morning you can't miss heading to this bustling farmers market full of seasonal produce and organic delights from all across the state. An award-winning market in the heart of Redfern curated by celebrity chefs with a little something for everyone.
Bondi to Coogee walk – One of the most beautiful walks in the world, this six-kilometer coastal delight is our absolute favorite thing to do in Sydney with gorgeous views, busy beaches and plenty of cute locals to admire. A close runner-up is the Manly to Spit walk with mega mansions, Indigenous rock art and magical secret beaches to discover.
Things To Do In Sydney
Planetdwellers – A Planetdwellers LGBT Travel, Tours, Events company in the middle of Oxford Street. Proudly gay-owned and operated, Mario, Barry, and Tim are the perfect guys to contact if you're looking for a special tour of Sydney with a gay twist, or any dedicated help for your gay travels, within Australia or abroad. One of their top in-house tours around Sydney is the Sydney Gay Village Walking Tour which explores Oxford Street and the surrounding area, talks about the famous events and history of the area and what it means to be gay in Sydney today.
Also worth planning a trip around is their annual epic drag bus tour to the Broken Heel Festival in Broken Hill fuelled with more desert, disco, and divas than you could ever handle. A ball of a week celebrating the iconic Aussie movie, 'Priscilla Queen of the Desert', there could be no better way to experience Gay Australia that with 50 other pleasure seekers, champagne in hand of course!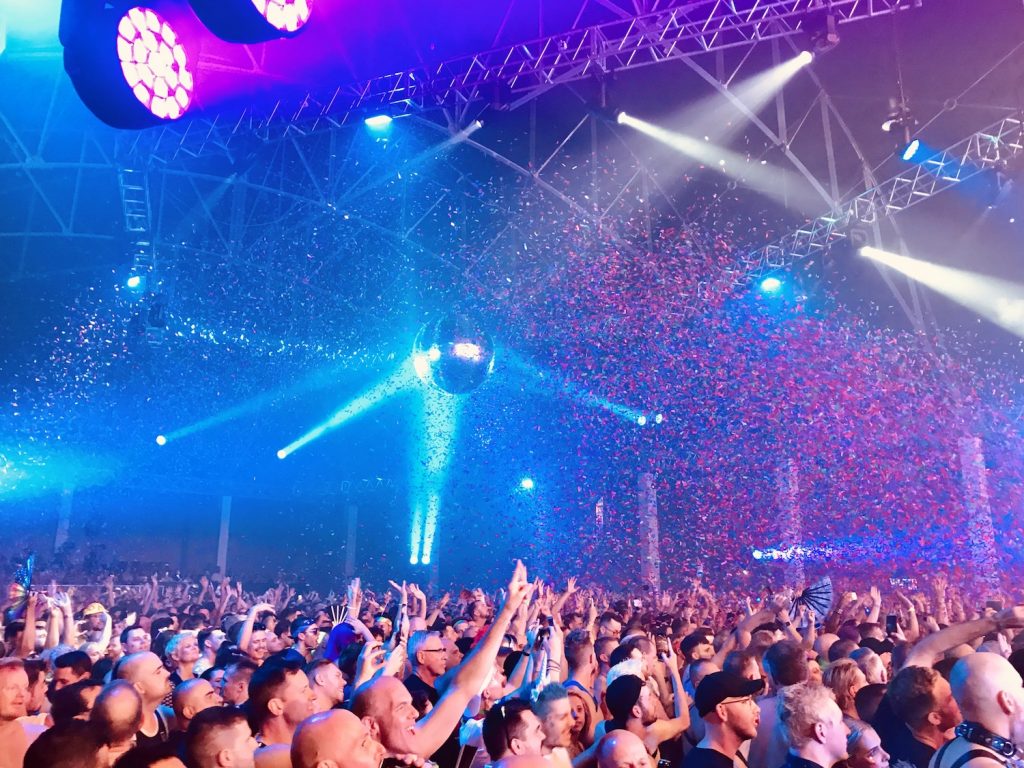 Sydney Gay and Lesbian Mardi Gras – An annual LGBT pride parade, one of the largest held anywhere in the world with hundreds of thousands of attendees. Held annually on the second Thursday in February for 40 years, the festival grew out of a gay rights parades in 1978, where participants had been arrested by New South Wales Police and today still holds on to its political roots, while expanding to include the Bondi Beach Drag Races, Mardi Gras Film Festival and a huge Fair Day in Victoria Park.
There are also hundreds of other club events and queer parties planned around. The clear highlight is the 4-hour parade extravaganza held on the Saturday nights, as is the afterparty where 12,000 guys gather to party all night long in what is Australia's biggest LGBTQI event each year. Mardi Gras is a huge tourism drawcard where hotels in Sydney sell out months in advance, so if you plan on attending be sure to book well in advance!